Key Takeaways
For years, I've kept 'idea journals', but until now they've simply fallen into the black hole that is my notes.
Below is a distilled 'landing page' of some of these ideas and I hope that by sharing them it sparks something in someone who has the inclination to do something with them.
If you'd like to jam on them, reach out to me here, if you do decide to pursue them, please keep me posted on how it goes, if these things exist and I'm just out of the loop, tell me! :)
---
WhatsApp Bounties
WhatsApp's "status" is a huge waste of digital real estate. Let's replace it with something useful - bounties.
Simply add your ask, set an amount, and have the world crowdsource an answer for you. The best, fastest answer unlocks the bounty + WhatsApp takes a small take rate :)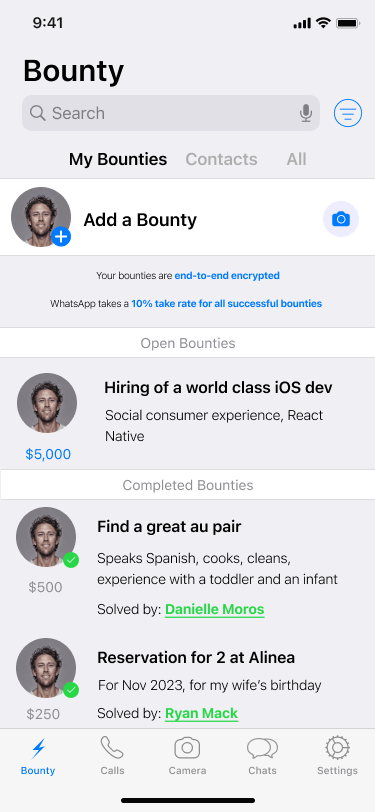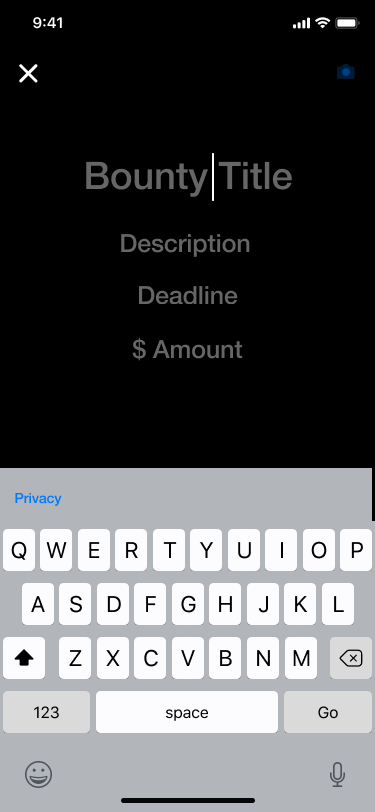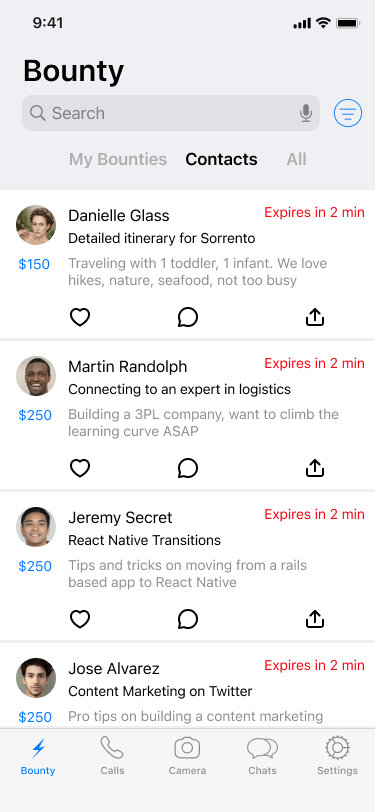 ---
Acts of Kindness (AOK)
Conducting small acts of kindness sparks joy in both yourself and others. While few other things of such small effort have such great impact, few do it because of technical and structural limitations. Until now.
With AOK, you simply contribute a monthly amount of your choice that automatically gets distributed to unexpecting customers through our partner locations.
---
Eat The Frog
Actually working on your most important thing is shockingly hard.
Until now.

Eat the Frog is a simple app that keeps you accountable to your top priorities by asking you what your most important thing is that day, when you'll work on it, and if whether you did so or not.
---
Beautiful Questions
Imagine you could easily comb through the top 3-5 questions in every major field, as determined by the experts in that field.
Now you can, with Beautiful Questions.
Make connections, see what top experts are working on, get inspired.
---
Question of the Day
Continuing in the Edge.org tradition, we ask one question per day to select experts to get a broad perspective on a thoughtful question.
---
300 Seconds
A social app that kicks you off after 300 seconds.
Connect, learn, and stay up to date all within 5 minutes per day.
---
Tesla Vending Machines
Espressos, wellness bars, kombuchas, and other healthy foods and drinks found in vending machines at Tesla supercharging stations.
---
Mobile Wellness Gym
A mobile gym that has cryotherapy, biofeedback, vibration plates, PEMF, oxygen trainers, and more.
These complex and expensive systems would come directly to your home for 30 minutes of intense and personal training.
---
Most Important Question (MIQ)
Josh Waitzkin has a journaling practice where he asks himself what his MIQ is just before he goes to bed.
In this app, you journal what your MIQ is and have the option to share it in case you want help with it. If not, let your subconscious work on it during the night and keep track of your MIQs over time
---
Operators First
Ideas are easy. Execution is hard.
When you're ready to scale up, get connected to experienced operators who can help you in your journey.
---
Wameo
Cameo, but for wisdom.
Get connected with business leaders, philosophers, investors, and other wise folks and pay them for their perspective on your problem, question, or idea.
---
A Better Text
Have you forgotten to respond to an important text before? Wish you could send a text later?

Now you can.

With A Better Text, you can mark texts read / unread, send later, and add reminders.
---
Think-Week-As-A-Service
Long periods of uninterrupted time to think deeply are precious.
When you're ready to disappear from the world to make progress on your big idea, simply choose your dates and we'll handle the rest. Your abode will be stacked with your favorite essentials, but no distractions.
Make months of progress in a single week with TWAAS.
---
Podder
Goodreads, but for podcasts
Share your podcast notes and reviews, discover your next favorite podcast and others who have similar (impeccable) tastes as you do.
---
Confidant
By utilizing GPT3, you can now have your own, trusted confidant - a resource where you can share personal questions, struggles, and ideas in total secrecy and safety.

Simply text +1 (xxx) xxx-xxxx or download the app to get started.
---
Book-as-a-Service
GitHub, but for books.
Turn static books which are expensive and costly to republish into living, breathing, organic documents that can be easily updated and improved.
---